Joined

February 1, 2019
Posts

12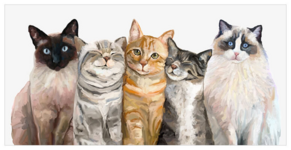 Welcome to the CAts clan thread!
Here at [CAT] we pride on CRUSHING ALL DOGGOS THAT STAND IN OUR WAY. ESPECIALLY THOSE WITH AVATARS OF DOGS.
@EpicWin
ESPECIALLY.
WE love cats in this clan. It is rather simple to join this clan. Fill out the app and meet requirements plz!
REQUIREMENTS
:
You must meow at the end of any in game chat message or discord voice call statement.
Must have a KD of above 0.50.... UPDATED: It is now 0.49 so if Sacred wants to apply he can!!!
You also must be like... 6'8.. and 280 LB. if you're not 6'8, 250 lb then you cannot hang with the big boiz!!!
Application
:
What kinda cats you like?????
What clans have you been in the past?
What are cats favorite food?
Also, you must post a picture of a cat at the end of the app!
MOD APPLICATION:
How committed are you to the CAts clan!?
What day is it today?
Do you LOVE ALEX???
Last edited: