Feature Tester
Gold Supporter
Joined

January 31, 2019
Posts

42
Location

[MVP]: The Birthplace of the Pros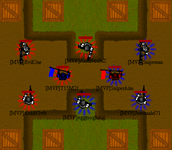 MVP is a Pawn Tactics clan that was founded on 07/11/08 by T15M21 & Exclusive.
We have a great reputation and community. Our mission is to recruit only the finest.
After you finish your journey of acquiring skill and tactics,
You join MVP as a sign of the gained experience and wisdom.
Many MVP Players have gone on to lead the best clans including SVG, LOL, BHS, CSC, CEL, DIG, & ZGX after the clan was forcefully dissipated by moderators Sharpy and HardenedWarVeteran.
Notable Beta Members


Exclusive
T15M21
John Wayne
Anarchy
Falco
AngryE
Galinkinlin
Knightmaire
Patriotsrock
Snipeman
Lilith
GriggsJordan
SniperAim
SuperNoob
Betsy30
Notable Members After Beta


TehDarkKnife
AntiN3wb
AntiNoobz
Zeraton
Uwarsnl
Bandit97
EvilOne
BladeAvenger
Jeremiah671
xLegacyx
Jmoney
Encore
HighFlyJames
ThugNasty
Incarnation
Notable Members After Sandboxd Era


ImANoob
Dream
Jinxy
Requirements:
We do not allow alternate accounts.
Only MVPs.
All MVP moderators must be fine with accepting a member for that person to become a member.
Application:
What have you accomplished throughout your Pawn Tactics journey?

​
Last edited: