Joined

June 29, 2019
Posts

28
Location
A couple months ago I stated I was going to recreate a map I made idk how many years ago. I started classes and spent most of my free time studying (it was rewarding). Now that I have some free time and didn't feel like doing Alex's homework I decided to finish what I started.
I introduce you City Center.
Small map with no elevations, multiple windows for shots @ the zone, rewarding if you hold the zone, promotes use of Guard, simple path for newer members. Also includes the newest tileset.
I have to add that some of the tiles do not merge together flawlessly. I might tool around and see if I can fix that or see in-game whether it's just the image or if it is actually the tiles themselves. Is there still a way for me to test maps?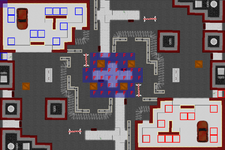 Source Code
30&20&city&1$1,1^1$6,1^1$7,1^1$8,1^1$10,1^1$1,2^1$8,3^1$4,4^1$5,4^1$1,5^1$7,5^1$0,7^0$29,12^0$22,14^0$28,14^0$24,15^0$25,15^0$21,16^0$28,17^0$19,18^0$21,18^0$22,18^0$23,18^0$28,18&0,0$81,1201,0,0^1,0$82,0110,0,0^2,0$82,0110,0,0^3,0$82,0110,0,0^4,0$82,0110,0,0^5,0$82,0110,0,0^6,0$82,0110,0,0^7,0$82,0110,0,0^8,0$82,0110,0,0^9,0$82,0110,0,0^10,0$82,0110,0,0^11,0$81,0110,0,0^12,0$20,2110,0,0^13,0$5,1021,0,0^14,0$5,1201,0,0^23,0$203,0110,0,0^24,0$202,1201,0,0^25,0$204,1201,0,0^26,0$208,2112,0,0^27,0$207,0110,0,0^28,0$206,2112,0,0^29,0$202,2112,0,0^0,1$82,1201,0,0^1,1$2,0110,0,0^2,1$171,0110,0,0^3,1$170,0110,0,0^4,1$2,0110,0,0^5,1$2,0110,0,0^6,1$2,0110,0,0^7,1$2,0110,0,0^8,1$2,0110,0,0^9,1$2,0110,0,0^10,1$2,0110,0,0^11,1$82,1021,0,0^12,1$20,2110,0,0^13,1$11,1201,0,0^14,1$11,0110,0,0^15,1$5,2112,0,0^16,1$9,2112,0,0^17,1$5,2112,0,0^18,1$10,1201,0,0^25,1$203,0110,0,0^26,1$202,1201,0,0^27,1$204,1201,0,0^28,1$205,2112,0,0^29,1$202,2112,0,0^0,2$82,1201,0,0^1,2$2,0110,0,0^2,2$169,0110,0,0^3,2$168,0110,0,0^4,2$2,0110,0,0^5,2$2,0110,0,0^6,2$92,2110,0,0^7,2$89,2110,0,0^8,2$92,0110,0,0^9,2$2,0110,0,0^10,2$2,0110,0,0^11,2$82,1021,0,0^12,2$20,2110,0,0^13,2$11,1001,0,0^14,2$11,1021,0,0^15,2$5,0110,0,0^16,2$5,0110,0,0^17,2$6,0110,0,0^18,2$10,0110,0,0^19,2$14,2112,0,0^20,2$14,0110,0,0^27,2$203,0110,0,0^28,2$202,1201,0,0^29,2$203,1201,0,0^0,3$82,1201,0,0^1,3$2,0110,0,0^2,3$167,0110,0,0^3,3$166,0110,0,0^4,3$2,0110,0,0^5,3$2,0110,0,0^6,3$2,0110,0,0^7,3$92,1001,0,0^8,3$2,0110,0,0^9,3$84,2112,0,0^10,3$186,2112,0,0^11,3$81,1021,0,0^12,3$19,2112,0,0^13,3$5,1021,0,0^14,3$5,1201,0,0^27,3$6,1021,0,0^28,3$1,2112,0,0^29,3$7,1201,0,0^0,4$82,1201,0,0^1,4$2,0110,0,0^2,4$2,0110,0,0^3,4$2,0110,0,0^4,4$2,0110,0,0^5,4$2,0110,0,0^6,4$2,0110,0,0^7,4$2,0110,0,0^8,4$2,0110,0,0^9,4$82,1021,0,0^10,4$0,0110,0,0^11,4$12,0110,0,0^12,4$0,0110,0,0^13,4$5,1021,0,0^14,4$5,1201,0,0^15,4$13,2112,0,0^16,4$12,1021,0,0^17,4$12,1021,0,0^18,4$12,1021,0,0^19,4$12,1021,0,0^20,4$13,1201,0,0^21,4$203,1021,0,0^22,4$202,1021,0,0^23,4$203,2112,0,0^27,4$203,1021,0,0^28,4$202,1021,0,0^29,4$203,2112,0,0^0,5$82,1201,0,0^1,5$2,0110,0,0^2,5$2,0110,0,0^3,5$2,0110,0,0^4,5$92,2112,0,0^5,5$92,0112,0,0^6,5$2,0110,0,0^7,5$2,0110,0,0^8,5$84,2112,0,0^9,5$81,1021,0,0^10,5$12,1021,0,0^11,5$13,0110,0,0^12,5$0,0110,0,0^13,5$5,1021,0,0^14,5$5,1201,0,0^15,5$23,1021,0,0^16,5$19,1021,0,0^18,5$19,1001,0,0^19,5$23,2112,0,0^20,5$12,2112,0,0^21,5$202,0110,0,0^22,5$207,0110,0,0^23,5$202,2112,0,0^27,5$202,0110,0,0^28,5$206,2112,0,0^29,5$202,2112,0,0^0,6$81,2112,0,0^1,6$82,2112,0,0^2,6$187,2112,0,0^3,6$188,2112,0,0^4,6$188,2112,0,0^5,6$188,2112,0,0^6,6$187,0112,0,0^7,6$82,2112,0,0^8,6$81,1021,0,0^9,6$20,1201,0,0^10,6$19,1221,0,0^11,6$0,0110,0,0^12,6$0,0110,0,0^13,6$6,1021,0,0^14,6$5,1201,0,0^15,6$19,0112,0,0^19,6$20,2110,0,0^20,6$12,2112,0,0^21,6$203,0110,0,0^22,6$202,1201,0,0^23,6$203,1201,0,0^27,6$203,0110,0,0^28,6$202,1201,0,0^29,6$203,1201,0,0^0,7$5,1221,0,0^1,7$9,1201,0,0^2,7$0,0110,0,0^3,7$0,0110,0,0^4,7$0,0110,0,0^5,7$0,0110,0,0^6,7$0,0110,0,0^7,7$0,0110,0,0^8,7$19,1201,0,0^9,7$18,1201,0,0^10,7$0,0110,0,0^11,7$14,1201,0,0^12,7$0,0110,0,7^13,7$10,1021,0,7^14,7$10,0110,0,7^15,7$0,0110,0,7^16,7$0,0110,0,7^17,7$0,0110,0,7^19,7$20,2110,0,0^20,7$13,1021,0,0^21,7$13,1201,0,0^28,7$6,1021,0,0^29,7$5,1201,0,0^0,8$202,1021,0,0^1,8$203,2112,0,0^2,8$0,0110,0,0^3,8$0,0110,0,0^4,8$0,0110,0,0^5,8$0,0110,0,0^6,8$0,0110,0,0^7,8$0,0110,0,0^8,8$13,2112,0,0^9,8$19,0112,0,0^10,8$0,0110,0,0^11,8$14,1021,0,0^12,8$0,0110,0,7^13,8$210,0110,0,0^14,8$10,2112,0,7^15,8$10,1201,0,7^16,8$0,0110,0,7^17,8$210,2112,0,0^19,8$18,1021,0,0^20,8$23,2112,0,0^21,8$12,2112,0,0^26,8$210,2112,0,0^28,8$203,1021,0,0^29,8$202,1021,0,0^0,9$207,1021,0,0^1,9$202,2112,0,0^2,9$0,0110,0,0^3,9$0,0110,0,0^4,9$0,0110,0,0^5,9$0,0110,0,0^6,9$15,1221,0,0^7,9$0,0110,0,0^8,9$12,0110,0,0^9,9$0,0110,0,0^10,9$0,0110,0,0^11,9$0,0110,0,7^12,9$10,2112,0,7^13,9$5,0112,0,7^14,9$11,1201,0,7^15,9$11,0110,0,7^16,9$6,2112,0,7^17,9$10,1201,0,7^18,9$0,0110,0,7^20,9$19,2112,0,0^21,9$12,2112,0,0^23,9$15,1201,0,0^28,9$202,0110,0,0^29,9$208,1201,0,0^0,10$208,1021,0,0^1,10$202,2112,0,0^2,10$0,0110,0,0^3,10$0,0110,0,0^4,10$0,0110,0,0^5,10$0,0110,0,0^6,10$15,1021,0,0^7,10$0,0110,0,0^8,10$12,0110,0,0^9,10$19,0110,0,0^10,10$0,0110,0,0^11,10$0,0110,0,7^12,10$10,1021,0,7^13,10$6,0110,0,7^14,10$11,2112,0,7^15,10$11,1021,0,7^16,10$5,2110,0,7^17,10$10,0110,0,7^18,10$0,0110,0,7^21,10$12,2112,0,0^23,10$15,1001,0,0^28,10$202,0110,0,0^29,10$207,1201,0,0^0,11$202,1201,0,0^1,11$203,1201,0,0^2,11$0,0110,0,0^3,11$210,0110,0,0^4,11$0,0110,0,0^5,11$0,0110,0,0^6,11$0,0110,0,0^7,11$0,0110,0,0^8,11$12,0110,0,0^9,11$23,0110,0,0^10,11$18,1201,0,0^11,11$0,0110,0,0^12,11$210,0110,0,0^13,11$0,2112,0,7^14,11$10,1021,0,7^15,11$10,0110,0,7^16,11$210,2112,0,0^17,11$0,2112,0,7^18,11$14,1201,0,0^20,11$19,2110,0,0^21,11$13,0110,0,0^28,11$203,0110,0,0^29,11$202,1201,0,0^0,12$5,1021,0,0^1,12$6,1201,0,0^2,12$0,0110,0,0^3,12$0,0110,0,0^4,12$0,0110,0,0^5,12$0,0110,0,0^6,12$0,0110,0,0^7,12$0,0110,0,0^8,12$13,1021,0,0^9,12$13,1201,0,0^10,12$20,0112,0,0^11,12$0,0110,0,0^12,12$0,2112,0,7^13,12$0,2112,0,7^14,12$0,2112,0,7^15,12$10,2112,0,7^16,12$10,1201,0,7^17,12$0,2112,0,7^18,12$14,1021,0,0^20,12$18,1021,0,0^21,12$19,1021,0,0^28,12$9,1021,0,0^29,12$5,1201,0,0^0,13$203,1021,0,0^1,13$202,1021,0,0^2,13$203,2112,0,0^3,13$0,0110,0,0^4,13$0,0110,0,0^5,13$0,0110,0,0^6,13$203,1021,0,0^7,13$202,1021,0,0^8,13$203,2112,0,0^9,13$12,0110,0,0^10,13$20,0112,0,0^11,13$0,0110,0,0^12,13$0,0110,0,0^13,13$0,0110,0,0^14,13$19,2110,0,0^15,13$5,1021,0,0^16,13$6,1201,0,0^19,13$19,1001,0,0^20,13$20,1021,0,0^21,13$81,1201,0,0^22,13$82,0110,0,0^23,13$187,2110,0,0^24,13$188,0110,0,0^25,13$188,0110,0,0^26,13$188,0110,0,0^27,13$187,0110,0,0^28,13$82,0110,0,0^29,13$81,0110,0,0^0,14$202,0110,0,0^1,14$206,0110,0,0^2,14$202,2112,0,0^3,14$0,0110,0,0^4,14$0,0110,0,0^5,14$0,0110,0,0^6,14$202,0110,0,0^7,14$207,2112,0,0^8,14$202,2112,0,0^9,14$12,0110,0,0^10,14$23,0110,0,0^11,14$19,1221,0,0^12,14$0,0110,0,0^13,14$19,1201,0,0^14,14$23,1201,0,0^15,14$5,1021,0,0^16,14$5,1201,0,0^18,14$13,2112,0,0^19,14$12,1201,0,0^20,14$81,1201,0,0^21,14$84,0110,0,0^22,14$2,2112,0,0^23,14$2,2112,0,0^24,14$92,2110,0,0^25,14$92,0110,0,0^26,14$2,2112,0,0^27,14$2,2112,0,0^28,14$2,2112,0,0^29,14$82,1021,0,0^0,15$203,0110,0,0^1,15$202,1201,0,0^2,15$203,1201,0,0^3,15$0,0110,0,0^4,15$0,0110,0,0^5,15$0,0110,0,0^6,15$203,0110,0,0^7,15$202,1201,0,0^8,15$203,1201,0,0^9,15$13,1021,0,0^10,15$12,1201,0,0^11,15$12,1201,0,0^12,15$12,1201,0,0^13,15$12,1201,0,0^14,15$13,0110,0,0^15,15$5,1021,0,0^16,15$5,1201,0,0^18,15$12,2112,0,0^20,15$82,1201,0,0^21,15$2,2112,0,0^22,15$2,2112,0,0^23,15$2,2112,0,0^24,15$2,2112,0,0^25,15$2,2112,0,0^26,15$2,2112,0,0^27,15$2,2112,0,0^28,15$2,2112,0,0^29,15$82,1021,0,0^0,16$7,1021,0,0^1,16$1,0110,0,0^2,16$6,1201,0,0^3,16$0,0110,0,0^4,16$0,0110,0,0^5,16$0,0110,0,0^6,16$0,0110,0,0^7,16$0,0110,0,0^8,16$0,0110,0,0^9,16$0,0110,0,0^10,16$0,0110,0,0^11,16$0,0110,0,0^12,16$0,0110,0,0^13,16$0,0110,0,0^14,16$0,0110,0,0^15,16$5,1021,0,0^16,16$5,1201,0,0^17,16$19,0110,0,0^18,16$81,1201,0,0^19,16$186,0110,0,0^20,16$84,0110,0,0^21,16$2,2112,0,0^22,16$92,1221,0,0^23,16$2,2112,0,0^24,16$2,2112,0,0^25,16$2,2112,0,0^26,16$166,2112,0,0^27,16$167,2112,0,0^28,16$2,2112,0,0^29,16$82,1021,0,0^0,17$203,1021,0,0^1,17$202,1021,0,0^2,17$203,2112,0,0^3,17$0,0110,0,0^4,17$0,0110,0,0^5,17$0,0110,0,0^6,17$0,0110,0,0^7,17$0,0110,0,0^8,17$0,0110,0,0^9,17$14,2112,0,0^10,17$14,0110,0,0^11,17$10,2112,0,0^12,17$6,2112,0,0^13,17$5,2112,0,0^14,17$5,2112,0,0^15,17$11,1201,0,0^16,17$11,1221,0,0^17,17$20,0112,0,0^18,17$82,1201,0,0^19,17$2,2112,0,0^20,17$2,2112,0,0^21,17$92,2112,0,0^22,17$89,0112,0,0^23,17$92,0112,0,0^24,17$2,2112,0,0^25,17$2,2112,0,0^26,17$168,2112,0,0^27,17$169,2112,0,0^28,17$2,2112,0,0^29,17$82,1021,0,0^0,18$202,0110,0,0^1,18$205,0110,0,0^2,18$204,1021,0,0^3,18$202,1021,0,0^4,18$203,2112,0,0^5,18$0,0110,0,0^6,18$0,0110,0,0^7,18$0,0110,0,0^8,18$0,0110,0,0^9,18$0,0110,0,0^10,18$0,0110,0,0^11,18$10,1021,0,0^12,18$5,0110,0,0^13,18$9,0110,0,0^14,18$5,0110,0,0^15,18$11,2112,0,0^16,18$11,1021,0,0^17,18$20,0112,0,0^18,18$82,1201,0,0^19,18$2,2112,0,0^20,18$2,2112,0,0^21,18$2,2112,0,0^22,18$2,2112,0,0^23,18$2,2112,0,0^24,18$2,2112,0,0^25,18$2,2112,0,0^26,18$170,2112,0,0^27,18$171,2112,0,0^28,18$2,2112,0,0^29,18$82,1021,0,0^0,19$202,0110,0,0^1,19$206,0110,0,0^2,19$207,2112,0,0^3,19$208,0110,0,0^4,19$204,1021,0,0^5,19$202,1021,0,0^6,19$203,2112,0,0^7,19$0,0110,0,0^8,19$0,0110,0,0^9,19$0,0110,0,0^10,19$0,0110,0,0^11,19$0,0110,0,0^12,19$0,0110,0,0^13,19$0,0110,0,0^14,19$0,0110,0,0^15,19$5,1021,0,0^16,19$5,1201,0,0^17,19$20,0112,0,0^18,19$81,2112,0,0^19,19$82,2112,0,0^20,19$82,2112,0,0^21,19$82,2112,0,0^22,19$82,2112,0,0^23,19$82,2112,0,0^24,19$82,2112,0,0^25,19$82,2112,0,0^26,19$82,2112,0,0^27,19$82,2112,0,0^28,19$82,2112,0,0^29,19$81,1021,0,0&