Pawn Map Making Team
Feature Tester
Joined

January 22, 2019
Posts

100
This thread will contain
Practice Mazes
for Mazers to improve their mazing skills.
Each maze will focus on a select subset of mazing jumps or glitches.
Try to get as far as you can in these practice mazes. The last screen of each Practice Maze is meant to be challenging and summarizes the entirety of the maze. Completion of the Practice Maze should be a good indicator of proficiency.
I will be periodically updating this thread with new Practice Mazes. Contact me on forums or Discord if you need help with anything.
Please post photos of Practice Maze completion!
Happy Mazing!
===
Jumps Practice
Gap jump, V jump, OGM, X fall, AKA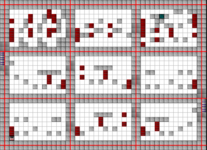 Assault&Jumps Practice&8&44&32&19,19,19,19,19,19,19,19,19,19,19,19,19,19,19,19,19,19,19,19,19,19,19,19,19,19,19,19,19,19,19,19,19,19,19,19,19,19,19,19,19,19,19,19,19,19,19,19,19,19,19,19,19,19,19,19,19,19,19,19,19,19,19,19,19,19,19,19,19,19,19,19,19,19,19,19,19,19,19,19,19,19,19,19,19,19,19,19,19,19,0,0,0,0,0,0,0,0,23,0,0,19,19,19,0,0,0,0,0,0,0,0,0,0,0,0,19,19,0,0,0,0,0,0,0,19,19,0,19,19,19,19,19,19,0,0,0,0,23,0,0,19,23,23,0,19,19,19,0,0,0,0,0,0,0,0,0,0,0,0,19,19,0,0,19,19,37,19,0,0,0,0,0,23,19,19,19,19,23,0,0,19,23,0,0,19,0,23,19,0,19,19,0,0,0,0,0,19,0,0,0,19,0,0,19,19,23,0,0,19,19,0,0,0,0,0,19,23,19,19,19,19,0,0,0,19,0,0,19,0,0,0,19,0,19,19,0,0,19,23,0,0,0,23,0,0,0,0,22,22,23,0,0,19,0,19,19,0,19,0,0,23,19,19,19,19,23,0,19,0,23,0,19,0,23,23,19,0,22,22,23,0,0,0,19,19,0,0,19,19,0,0,22,22,23,0,19,23,0,0,23,0,0,0,0,0,19,19,19,19,23,0,0,0,23,0,0,0,23,0,0,0,22,22,23,19,19,23,0,0,0,23,0,0,0,19,19,19,23,0,0,0,0,0,23,0,0,0,0,23,19,19,19,19,23,0,19,0,0,0,19,0,0,0,19,19,19,19,23,0,0,0,0,0,0,0,0,0,0,0,19,19,0,0,19,23,19,0,0,19,0,19,0,0,19,19,22,22,0,0,19,19,0,0,19,19,0,0,19,19,19,19,0,0,0,0,0,0,0,0,0,0,0,0,19,19,23,0,0,0,0,0,0,0,0,0,0,0,19,19,22,22,19,19,19,19,19,19,19,19,19,19,19,19,19,19,19,19,19,19,19,19,19,19,19,19,19,19,19,19,19,19,19,19,19,19,19,19,19,19,19,19,19,19,36,19,19,19,19,19,19,19,19,19,19,19,19,19,19,19,19,19,19,19,19,19,19,19,19,19,19,19,19,19,19,19,19,19,19,19,19,19,19,19,19,19,19,19,36,19,0,0,0,0,0,0,0,0,0,0,0,0,19,19,0,0,0,0,0,0,0,0,0,0,0,0,19,19,0,0,0,0,0,0,0,0,0,0,0,0,19,19,36,19,19,0,0,0,0,0,0,0,0,0,0,0,19,22,0,0,0,0,0,0,0,0,0,0,0,0,19,19,0,0,0,0,0,0,0,0,0,0,0,0,19,19,22,22,0,0,0,0,0,0,0,0,0,0,0,0,22,22,0,23,0,0,19,19,19,19,0,0,0,0,19,19,0,0,0,0,0,0,0,0,0,0,0,0,19,19,19,22,0,0,0,0,0,0,19,19,19,19,19,0,19,19,0,0,0,0,0,0,23,0,0,0,0,0,19,19,0,19,19,0,0,0,0,0,19,0,19,0,19,19,19,19,0,19,0,0,0,0,0,0,23,0,0,0,19,19,0,23,0,0,0,0,23,0,0,0,0,0,22,22,0,0,0,0,0,0,0,0,0,0,0,0,19,19,19,19,0,0,0,19,0,0,0,0,23,0,0,23,19,19,0,0,0,19,0,19,0,0,19,0,0,23,22,22,0,0,0,0,0,0,19,0,0,0,0,23,19,19,19,19,0,0,0,0,0,19,0,19,0,0,19,23,19,19,0,0,0,0,0,0,0,0,0,0,19,23,19,19,0,19,0,19,0,0,0,0,19,0,19,23,19,19,19,19,0,0,0,0,0,0,0,0,0,0,0,0,19,19,0,0,0,0,0,0,0,0,0,0,0,0,19,19,0,0,0,0,0,0,0,0,0,0,0,0,22,22,19,19,19,19,19,19,19,19,19,19,19,19,19,19,19,19,19,19,19,19,19,19,19,19,19,19,19,19,19,19,19,19,19,19,19,19,19,19,19,19,19,19,22,22,19,19,19,19,19,19,19,19,19,19,19,19,19,19,19,19,19,19,19,19,19,19,19,19,19,19,19,19,19,19,19,19,19,19,19,19,19,19,19,19,19,19,19,36,19,19,0,0,0,0,0,0,0,0,0,0,0,0,19,19,0,0,0,0,0,0,0,0,0,0,0,0,19,19,0,0,0,0,0,0,0,0,0,0,0,0,19,36,19,19,0,0,0,0,0,0,0,0,0,0,0,0,19,19,0,0,0,0,0,0,0,0,0,0,0,0,22,19,0,0,0,0,0,0,0,0,0,0,0,19,19,36,19,19,0,0,0,0,0,0,0,0,0,0,0,0,19,19,0,0,0,0,19,19,19,19,0,0,23,0,22,22,0,0,0,0,0,0,0,0,0,0,0,0,22,22,19,19,0,19,0,19,0,0,0,0,0,19,19,0,19,19,0,0,0,0,0,23,0,0,0,0,0,0,19,19,0,19,19,19,19,19,0,0,0,0,0,0,22,19,19,19,0,0,0,0,0,0,0,0,0,0,0,0,22,22,0,0,0,0,0,23,0,0,0,0,23,0,19,19,0,0,0,23,0,0,0,0,0,0,19,0,19,19,19,19,23,0,0,0,0,19,0,0,0,0,0,0,22,22,23,0,0,19,0,0,19,0,19,0,0,0,19,19,23,0,0,23,0,0,0,0,19,0,0,0,19,19,19,19,23,19,0,19,0,0,0,0,19,0,19,0,19,19,23,19,0,0,0,0,0,0,0,0,0,0,19,19,23,19,0,0,19,0,19,0,0,0,0,0,19,19,19,19,1,0,0,0,0,0,0,0,0,0,0,0,19,19,0,0,0,0,0,0,0,0,0,0,0,0,19,19,0,0,0,0,0,0,0,0,0,0,0,0,19,19,19,19,19,19,19,19,19,19,19,19,19,19,19,19,19,19,19,19,19,19,19,19,19,19,19,19,19,19,19,19,19,19,19,19,19,19,19,19,19,19,19,19,19,19,19,19,19,19,19,19,19,19,19,19,19,19,19,19,19,19,19,19,19,19,19,19,19,19,19,19,19,19,19,19,19,19,19,19,19,19,19,19,19,19,19,19,19,19
Ladder Practice
Broken Ladders (BL), Ladder Crouch Jump Variations
PartyKillers (PK), Fireman, Frigz, Toph Fall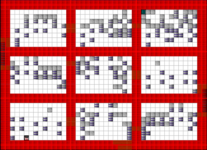 Assault&Ladder Practice&9&44&32&28,28,28,28,28,28,28,28,28,28,28,28,28,28,28,28,28,28,28,28,28,28,28,28,28,28,28,28,28,28,28,28,28,28,28,28,28,28,28,28,28,28,28,28,28,28,28,28,28,28,28,28,28,28,28,28,28,28,28,28,28,28,28,28,28,28,28,28,28,28,28,28,28,28,28,28,28,28,28,28,28,28,28,28,28,28,28,28,28,28,0,0,0,0,0,0,0,0,0,0,0,0,28,28,0,0,0,0,0,0,0,0,0,0,19,0,28,28,37,19,19,0,0,0,0,36,0,19,19,19,28,28,28,28,0,0,0,19,0,19,19,19,19,19,0,0,28,28,0,0,0,0,0,0,0,0,19,0,19,0,28,28,19,0,0,0,19,0,19,36,0,36,0,36,28,28,28,28,0,0,0,36,0,36,0,36,0,36,0,0,28,28,0,0,0,19,19,19,0,36,19,36,0,36,28,28,19,19,0,0,36,0,0,0,19,36,19,0,28,28,28,28,0,0,0,36,0,0,0,0,0,36,0,36,8,8,0,19,19,0,0,36,0,36,0,0,19,0,8,8,0,19,19,19,36,19,19,0,36,0,19,36,28,28,28,28,0,36,0,0,0,36,0,36,0,0,0,0,8,8,0,0,0,36,0,36,19,0,19,36,19,36,28,28,0,0,0,36,0,36,36,36,0,0,36,0,28,28,28,28,0,0,0,36,0,0,0,0,0,0,0,36,28,28,0,36,0,0,0,0,0,36,19,36,19,36,28,28,0,36,0,36,0,0,0,36,36,0,0,36,28,28,8,8,0,36,0,0,0,0,0,0,0,0,0,0,28,28,0,0,0,36,0,0,0,0,0,0,0,0,28,28,0,0,0,0,0,36,36,0,0,0,36,0,28,28,23,8,0,36,0,0,0,0,0,0,0,0,0,0,28,28,0,36,0,0,0,0,0,0,0,0,0,0,28,28,0,36,0,0,0,0,0,0,0,0,0,0,28,28,23,28,28,28,28,28,28,28,28,28,28,28,28,28,28,28,28,28,28,28,28,28,28,28,28,28,28,28,28,28,28,28,28,28,28,28,28,28,28,28,28,28,28,28,23,28,28,28,28,28,28,28,28,28,28,28,28,28,28,28,28,28,28,28,28,28,28,28,28,28,28,28,28,28,28,28,28,28,28,28,28,28,28,28,28,28,28,28,23,28,0,0,0,19,0,19,0,0,0,0,0,0,28,28,0,19,0,19,36,0,0,36,0,19,0,0,28,28,0,0,0,0,0,0,0,0,0,0,0,0,28,28,23,28,19,0,0,36,0,36,0,0,0,0,0,0,8,8,36,19,36,0,0,0,0,0,0,0,36,0,28,28,0,0,0,19,0,0,0,0,0,0,0,0,28,28,8,8,36,19,0,0,0,0,19,19,19,19,19,0,28,28,36,0,36,19,36,0,0,36,19,19,0,19,28,28,0,0,0,0,0,0,0,0,0,0,0,0,28,28,28,28,0,36,0,36,0,36,0,36,0,36,19,0,28,28,36,19,0,0,36,0,0,0,36,0,36,0,8,8,0,0,0,0,36,0,0,0,0,36,0,36,28,28,28,28,36,0,0,0,0,36,19,36,19,36,36,0,28,28,0,0,36,0,0,0,0,0,36,19,19,0,8,8,0,36,0,0,0,0,36,0,0,0,0,0,28,28,28,28,0,36,0,0,0,0,0,0,0,0,0,36,28,28,0,0,0,0,0,0,0,0,0,0,36,0,28,28,0,0,0,0,36,0,0,0,0,36,0,36,28,28,28,28,0,0,0,0,0,0,0,0,0,0,36,36,28,28,0,0,0,0,0,0,0,0,19,19,0,0,28,28,0,36,0,0,0,0,36,0,0,0,0,0,8,8,28,28,0,0,0,0,0,0,0,0,0,0,0,0,28,28,0,0,0,0,0,0,0,0,0,0,36,0,28,28,0,0,0,0,0,0,0,0,0,0,0,36,8,23,28,28,28,28,28,28,28,28,28,28,28,28,28,28,28,28,28,28,28,28,28,28,28,28,28,28,28,28,28,28,28,28,28,28,28,28,28,28,28,28,28,28,28,23,28,28,28,28,28,28,28,28,28,28,28,28,28,28,28,28,28,28,28,28,28,28,28,28,28,28,28,28,28,28,28,28,28,28,28,28,28,28,28,28,28,28,28,23,28,28,0,0,0,0,0,0,0,0,0,0,0,0,28,28,0,0,0,0,36,0,0,36,19,0,0,0,28,28,0,0,0,0,0,0,19,0,19,0,0,0,28,23,28,28,0,0,0,0,0,0,0,0,19,0,0,0,28,28,0,36,0,0,0,0,0,0,0,0,0,0,28,28,0,0,0,0,0,0,36,0,36,0,0,0,28,23,28,28,0,0,0,0,0,0,0,0,0,0,0,0,28,28,19,0,19,19,36,0,0,36,19,19,19,0,28,28,0,19,19,19,19,19,0,0,0,0,19,36,8,8,28,28,36,0,36,0,0,0,0,36,0,0,0,0,8,8,0,36,0,36,0,0,0,36,0,0,0,0,28,28,19,19,36,0,36,0,36,0,36,0,36,0,28,28,28,28,0,0,0,0,0,36,0,0,0,0,36,0,8,8,0,19,19,36,0,0,0,0,0,0,19,19,28,28,19,36,36,19,36,19,36,0,0,0,0,36,28,28,28,28,36,0,36,0,0,0,0,36,0,0,0,0,28,28,0,36,0,0,0,0,0,0,0,0,0,36,8,8,36,0,0,0,0,0,0,0,0,0,36,0,28,28,28,28,0,0,0,0,0,36,0,0,0,0,36,0,28,28,0,0,19,19,0,0,0,0,0,0,0,36,28,28,36,36,0,0,0,0,0,0,0,0,0,0,28,28,28,28,36,0,0,1,0,0,0,0,0,0,0,0,28,28,0,36,0,0,0,0,0,0,0,0,0,36,28,28,36,0,0,0,0,0,0,0,0,0,0,0,28,28,28,28,28,28,28,28,28,28,28,28,28,28,28,28,28,28,28,28,28,28,28,28,28,28,8,8,8,8,28,28,28,28,28,28,28,28,28,28,28,28,28,28,28,28,28,28,28,28,28,28,28,28,28,28,28,28,28,28,28,28,28,28,28,28,28,28,28,28,28,8,8,8,28,28,28,28,28,28,28,28,28,28,28,28,28,28,28,28
Clash Pr
actice
Clash Variations, Clash towers, Proslide
Hii, Inverse, Digs, Rhyslide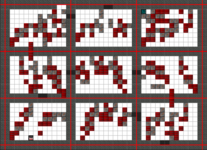 Assault&Clash Practice&6&44&32&197,197,197,197,197,197,197,197,197,197,197,197,197,197,197,197,197,197,197,197,197,197,197,197,197,197,197,197,197,197,197,197,197,197,197,197,197,197,197,197,197,197,197,197,197,197,197,197,197,197,197,197,197,197,197,197,0,0,197,197,197,197,197,197,197,197,176,176,197,197,197,197,197,197,197,197,197,197,197,197,197,197,197,197,197,197,197,197,197,197,0,0,0,0,0,0,0,0,0,23,0,20,197,197,0,0,0,0,0,20,0,0,0,0,0,0,197,197,37,0,20,23,23,23,0,0,23,0,20,0,197,197,197,197,0,0,0,0,0,0,20,0,20,20,0,0,176,176,0,0,0,0,0,20,0,0,0,0,0,0,197,197,20,20,23,20,20,0,0,0,0,0,23,0,197,197,197,197,0,0,0,0,0,0,20,20,0,23,23,20,197,197,0,0,0,0,20,0,0,20,0,23,0,0,197,197,0,20,20,23,23,23,20,20,23,0,20,0,197,197,197,197,0,0,0,23,20,23,20,23,0,20,0,20,197,197,0,23,20,23,20,20,0,20,0,20,23,20,197,197,0,0,23,0,0,0,23,20,0,23,23,0,197,197,197,197,0,23,20,20,0,20,20,20,0,0,23,0,197,197,0,20,0,20,0,20,0,0,23,23,20,0,197,197,0,23,23,20,23,20,20,20,0,23,0,0,197,197,197,197,0,20,20,23,0,23,0,23,23,20,23,20,197,197,23,23,0,23,0,0,0,0,23,0,23,0,197,197,0,20,20,0,20,20,23,0,0,0,0,0,197,197,197,197,23,23,0,0,0,0,0,20,23,0,0,0,197,197,23,0,0,0,0,0,0,0,0,0,0,0,197,197,23,23,23,0,23,0,0,0,0,0,0,0,197,197,197,197,23,0,0,0,23,0,0,20,0,0,0,0,197,197,0,0,0,0,0,0,0,0,0,0,0,0,197,197,23,0,0,0,0,0,0,0,0,0,0,0,197,197,197,197,197,197,197,197,23,197,197,197,197,197,197,197,197,197,197,197,197,197,197,197,197,197,197,197,197,197,197,197,197,197,197,197,197,197,197,197,197,197,197,197,197,197,197,197,197,197,197,197,23,197,197,197,197,197,197,197,197,197,197,197,197,197,197,197,197,197,197,197,197,197,197,197,197,197,197,197,197,197,197,197,197,197,197,197,197,197,197,197,0,0,20,0,23,0,0,0,20,0,0,0,197,197,0,0,0,20,0,23,0,0,20,0,0,0,197,197,0,0,0,0,0,0,0,0,20,0,0,0,197,197,197,197,0,0,23,0,0,20,0,0,20,0,0,0,197,197,0,23,0,20,23,20,0,20,23,0,0,0,197,197,0,23,23,0,0,0,0,0,23,0,0,0,197,197,197,197,0,0,20,0,20,20,0,20,23,23,0,0,197,197,23,20,0,0,20,23,23,20,20,23,0,0,197,197,20,20,20,23,23,0,0,0,20,23,0,0,197,197,197,197,0,0,23,23,0,20,0,20,20,20,23,0,176,176,20,23,23,0,23,23,23,0,23,20,0,0,176,176,0,23,23,20,20,0,0,0,23,0,0,0,197,197,197,197,0,0,0,0,0,23,23,0,23,23,20,0,197,197,23,0,23,0,0,0,0,0,20,23,0,0,197,197,20,0,0,23,23,23,0,0,0,23,23,0,197,197,197,197,0,0,0,23,0,20,0,0,0,20,23,0,197,197,0,20,20,0,0,0,0,0,23,20,23,0,197,197,0,0,0,0,0,23,0,0,0,20,20,0,197,197,197,197,0,0,0,0,23,23,23,0,0,23,20,0,197,197,0,0,0,0,0,0,0,0,0,23,0,0,197,197,0,0,20,20,20,0,0,0,0,0,23,23,197,197,197,197,0,0,0,0,23,20,0,0,0,0,23,23,197,197,0,0,0,0,0,0,0,0,0,0,23,0,197,197,0,0,0,0,0,0,23,0,0,0,0,23,197,197,197,197,197,197,197,197,197,197,176,176,197,197,197,23,197,197,197,197,197,197,197,197,197,197,197,197,197,197,197,197,197,197,197,197,197,197,23,197,197,197,197,197,197,197,197,197,197,197,197,197,197,197,197,197,197,197,197,197,197,197,197,197,197,197,197,197,197,197,197,197,197,197,197,197,197,197,197,197,197,197,23,197,197,197,197,197,197,197,197,197,0,0,0,0,20,0,0,0,0,0,0,0,197,197,0,0,0,0,20,0,23,0,20,0,0,0,197,197,0,0,0,0,0,0,23,0,0,20,0,0,197,197,197,197,0,0,0,23,20,0,0,0,0,0,0,0,197,197,0,0,0,23,20,0,20,23,20,0,23,0,197,197,0,0,0,0,20,0,0,0,0,23,0,0,197,197,197,197,0,0,23,20,20,0,0,23,23,20,20,20,197,197,0,0,23,20,20,23,23,20,0,0,20,20,176,176,0,0,0,23,20,0,20,20,0,20,0,0,197,197,197,197,0,0,0,23,0,0,0,20,20,20,0,20,197,197,0,0,20,23,0,23,23,23,0,23,23,0,197,176,0,23,20,20,20,0,20,0,23,23,0,0,197,197,197,197,0,23,23,0,0,0,23,23,23,0,0,0,197,197,0,0,23,20,0,0,0,0,0,23,20,0,197,197,0,20,0,23,0,23,23,0,0,0,0,0,197,197,197,197,0,20,20,0,0,0,0,0,0,0,0,0,197,197,0,23,20,23,0,0,0,0,0,0,0,0,197,197,0,23,20,0,0,0,20,0,23,0,0,0,197,197,197,197,23,23,0,0,0,0,23,0,0,0,0,0,197,197,0,0,23,0,0,0,0,0,0,0,0,0,197,197,0,20,20,0,0,23,23,23,0,0,0,0,197,197,197,197,23,0,0,0,1,0,0,0,0,0,0,0,197,197,0,23,0,0,0,0,0,0,0,0,0,0,197,197,0,23,0,0,0,0,20,23,0,0,0,0,197,197,197,197,197,197,197,197,197,197,197,197,197,197,197,197,197,197,197,197,197,197,197,197,197,197,197,197,197,197,197,197,197,197,197,197,176,176,197,197,197,197,197,197,197,197,197,197,197,197,197,197,197,197,197,197,197,197,197,197,197,197,197,197,197,197,197,197,197,197,197,197,197,197,197,197,197,197,197,197,197,197,197,197,197,197,197,197,197,197
Clash Practice 2
Clash Variations, Hiii Variations, Rhyslide
Proslide, Inverse, Reverse Inverse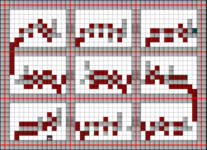 Assault&Clash Practice 2&1&44&32&19,19,19,19,19,19,19,19,19,19,19,19,19,19,19,19,19,19,19,19,19,19,19,19,19,19,19,19,19,19,19,19,19,19,19,19,19,19,19,19,19,19,19,19,19,19,19,19,19,19,19,19,19,19,19,19,19,19,19,19,19,19,19,19,19,19,19,19,19,19,19,19,19,19,19,19,19,19,19,19,19,19,19,19,19,19,19,19,19,19,0,0,0,0,0,0,0,0,0,0,0,0,19,19,0,0,0,0,0,0,0,0,0,0,0,0,19,19,0,0,0,0,0,0,0,0,0,0,0,0,19,19,19,19,0,0,0,0,0,0,0,0,0,0,0,0,19,19,0,0,0,0,0,0,0,0,0,0,0,0,19,19,0,0,0,0,0,0,0,0,0,0,0,0,19,19,19,19,0,0,0,0,0,0,23,0,0,19,0,0,19,19,0,0,0,0,0,0,0,0,0,0,19,0,19,19,0,0,0,0,0,0,0,0,0,0,19,0,19,19,19,19,0,0,0,0,23,19,19,23,0,19,0,0,22,22,0,0,0,23,19,23,19,23,0,0,19,0,22,22,0,0,0,0,0,0,0,0,23,0,19,0,19,19,19,19,0,0,23,19,19,0,23,19,23,19,0,0,22,22,0,23,19,19,0,19,0,19,19,23,19,0,22,22,0,0,23,23,19,23,23,19,19,23,19,37,19,19,19,19,0,0,19,0,23,0,0,23,19,19,19,0,19,19,0,19,0,23,0,23,0,23,0,19,19,0,19,19,0,0,19,19,0,19,19,0,23,19,19,19,19,19,19,19,0,23,23,0,0,0,0,0,23,0,0,0,19,19,23,23,0,0,0,0,0,19,0,23,0,0,19,19,0,23,23,23,0,23,23,0,0,23,0,0,19,19,19,19,23,23,0,0,0,0,0,0,0,0,0,0,19,19,23,0,0,0,0,0,0,0,0,0,0,0,19,19,0,23,0,0,0,0,0,0,0,0,0,0,19,19,19,19,23,19,19,19,19,19,19,19,19,19,19,19,19,19,19,19,19,19,19,19,19,19,19,19,19,19,19,19,19,19,19,19,19,19,19,19,19,19,19,19,19,19,19,19,23,19,19,19,19,19,19,19,19,19,19,19,19,19,19,19,19,19,19,19,19,19,19,19,19,19,19,19,19,19,19,19,19,19,19,19,19,19,19,19,19,19,19,19,23,0,0,0,0,0,0,0,0,0,0,0,19,19,0,0,0,0,0,0,0,0,0,0,0,0,19,19,0,0,0,0,0,0,0,0,0,0,0,0,19,19,19,19,23,0,0,0,0,0,0,0,0,0,0,0,19,19,0,0,19,0,0,0,0,0,0,0,0,0,19,19,0,19,0,0,0,0,0,0,0,0,0,0,19,19,19,19,23,0,0,19,0,0,0,0,0,0,0,0,19,19,0,0,19,0,0,0,0,0,0,0,0,0,19,19,0,19,0,23,0,0,19,0,0,0,0,0,19,19,19,19,23,0,0,19,0,23,0,23,23,0,0,0,22,22,0,0,0,19,23,23,23,0,23,0,0,0,22,22,0,19,23,19,0,0,19,0,0,0,0,0,19,19,19,19,0,0,19,23,23,19,23,19,19,23,0,23,22,22,0,0,19,23,19,19,19,23,19,23,0,23,22,22,0,23,19,23,23,19,23,23,23,23,0,0,19,19,19,19,0,19,19,19,19,23,19,23,23,19,0,23,19,19,0,19,0,19,23,23,23,19,23,19,0,23,19,19,19,23,23,0,23,19,19,19,19,19,0,0,19,19,19,19,0,0,0,23,23,0,23,0,0,23,23,0,19,19,0,0,0,23,23,0,0,23,0,23,23,0,19,19,0,0,0,0,0,0,23,23,23,23,23,0,19,19,19,19,0,0,0,0,0,0,0,0,0,0,23,0,19,19,0,0,0,0,0,0,0,0,0,0,23,0,19,19,0,0,0,0,0,0,0,0,0,0,23,23,19,19,19,19,19,19,19,19,19,19,19,19,19,19,19,19,19,19,19,19,19,19,19,19,19,19,19,19,19,19,19,19,19,19,19,19,19,19,19,19,19,19,19,23,19,19,19,19,19,19,19,19,19,19,19,19,19,19,19,19,19,19,19,19,19,19,19,19,19,19,19,19,19,19,19,19,19,19,19,19,19,19,19,19,19,19,19,23,19,19,19,19,0,0,0,0,0,0,0,0,0,0,0,0,19,19,0,0,0,0,0,0,0,0,0,0,0,0,19,19,0,0,0,0,0,0,0,0,0,0,0,23,19,19,19,19,0,0,0,0,0,0,0,0,0,0,19,0,19,19,0,0,0,0,0,0,0,0,0,0,0,0,19,19,0,0,0,0,0,0,0,0,0,0,0,23,19,19,19,19,0,0,0,0,0,0,0,0,23,0,19,0,19,19,0,0,0,0,0,0,0,0,0,19,0,0,19,19,0,0,0,0,0,0,0,0,0,0,0,23,19,19,19,19,0,0,0,0,0,0,19,0,19,23,19,0,22,22,0,0,0,0,0,0,23,0,0,19,0,0,22,22,0,0,0,0,23,0,0,0,0,19,0,23,19,19,19,19,0,0,23,23,23,23,19,23,23,19,19,0,22,22,23,0,23,19,23,19,19,19,23,19,0,0,22,22,23,0,23,19,19,23,19,23,23,19,0,0,19,19,19,19,0,0,19,19,19,19,19,23,0,23,0,0,19,19,23,0,19,0,19,0,23,0,19,19,0,19,19,19,23,0,19,19,23,19,0,19,19,19,19,0,19,19,19,19,0,23,23,23,23,23,0,0,0,0,0,0,19,19,0,23,23,0,23,0,19,0,23,0,0,0,19,19,0,23,23,0,0,23,0,23,23,0,0,0,19,19,19,19,0,23,0,0,0,0,0,0,1,0,0,0,19,19,0,23,0,0,0,0,0,0,0,0,0,0,19,19,0,23,0,0,0,0,0,0,0,0,0,0,19,19,19,19,19,19,19,19,19,19,19,19,19,19,19,19,19,19,19,19,19,19,19,19,19,19,19,19,19,19,19,19,19,19,19,19,19,19,19,19,19,19,19,19,19,19,19,19,19,19,19,19,19,19,19,19,19,19,19,19,19,19,19,19,19,19,19,19,19,19,19,19,19,19,19,19,19,19,19,19,19,19,19,19,19,19,19,19,19,19
​
Last edited: