Pawn Map Making Team
Feature Tester
Joined

January 22, 2019
Posts

100
One of the few joys of mazing is finally getting to the artifact after struggling past all 9 screens after some time.
This one is for all of you who want to dip their toes into the world of mazing after more than a decade
Contained within are: gap Jumps, V jumps, long jumps, ladder crouch jumps, clashes+slides, voidz, voidz up, hii/hax, and AKA
Don't worry! I paid close attention to the jump & glitch placement, so as to make them as painless as possible.
Feel free to ask for help!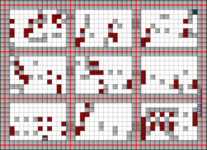 Assault&Beginner Maze&8&44&32&19,19,19,19,19,19,19,19,19,19,19,19,19,19,19,19,19,19,19,19,19,19,19,19,19,19,19,19,19,19,19,19,19,19,19,19,19,19,19,19,19,19,19,19,19,19,19,19,19,19,19,19,19,19,19,19,19,19,19,19,19,19,19,19,19,19,19,19,19,19,19,19,19,19,19,19,19,19,19,19,19,19,19,19,19,19,19,19,19,19,0,0,0,0,0,0,19,0,0,0,19,19,19,19,0,0,0,0,0,0,0,0,0,0,0,0,19,19,0,0,0,0,0,0,0,0,0,0,19,37,19,19,19,19,0,0,0,0,0,0,23,19,0,23,23,0,22,22,0,0,19,0,0,0,0,0,0,0,0,0,19,19,0,0,0,0,19,19,0,0,0,0,19,0,19,19,19,19,23,0,0,0,23,19,19,19,0,23,0,19,19,19,0,0,19,0,0,0,0,0,19,0,0,0,22,22,0,0,0,0,0,0,0,0,0,23,19,0,19,19,19,19,0,0,0,0,19,0,23,0,0,0,23,0,19,19,0,0,19,0,0,0,0,23,0,19,0,0,22,22,0,0,19,0,0,0,0,0,0,0,0,0,19,19,19,19,23,0,0,23,23,0,0,0,0,0,0,0,19,19,0,23,0,0,0,0,0,19,0,0,0,0,19,19,0,23,0,19,0,19,0,0,0,23,19,0,19,19,19,19,23,0,0,23,0,0,0,19,0,19,19,0,19,19,0,19,0,19,0,0,0,23,23,0,0,0,19,19,0,19,0,0,0,0,0,0,19,23,19,19,19,19,19,19,0,0,0,0,19,19,19,19,0,0,0,0,19,19,23,23,0,0,0,0,19,0,23,0,0,0,19,19,23,23,0,0,0,0,0,0,0,0,0,0,19,19,19,19,19,0,0,0,0,0,0,0,0,0,0,0,19,19,23,0,0,0,0,0,19,0,0,0,0,0,19,19,23,0,0,0,0,0,0,0,0,0,0,0,19,19,19,19,22,19,19,19,19,19,19,19,19,19,19,19,19,19,19,19,19,19,19,19,19,19,19,19,19,19,19,19,19,19,19,19,19,19,19,19,19,19,19,19,19,19,19,19,22,19,19,19,19,19,19,19,19,19,19,19,19,19,19,19,19,19,19,19,19,19,19,19,19,19,19,19,19,19,19,19,19,19,19,19,19,19,19,19,19,19,19,19,0,19,0,0,0,0,0,0,0,0,0,0,19,19,0,0,19,0,0,0,0,0,0,0,0,0,19,19,0,0,0,0,0,0,0,0,0,0,0,0,19,19,19,19,19,23,0,0,0,19,0,0,0,0,0,0,19,19,19,0,19,23,23,0,0,0,0,0,0,0,19,19,0,0,0,0,0,0,0,0,0,0,0,0,19,19,19,19,0,19,23,0,0,0,0,0,0,0,0,0,22,22,0,0,19,19,19,0,0,0,0,0,0,0,19,19,0,0,0,0,0,0,0,0,0,0,0,0,19,19,19,19,0,23,19,0,0,0,0,0,23,0,0,0,22,22,0,0,0,23,23,23,0,19,0,19,0,0,22,22,23,0,0,0,0,0,0,0,0,19,0,0,19,19,19,19,0,0,23,23,19,0,19,0,0,0,23,0,19,19,0,19,19,0,0,0,0,0,0,0,0,0,19,19,23,0,19,0,0,0,0,19,0,0,0,0,19,19,19,19,0,0,0,23,0,0,0,0,23,0,0,0,19,19,0,0,0,0,0,23,0,0,0,0,0,23,19,19,23,0,0,0,19,0,0,23,0,0,0,23,19,19,19,19,19,19,19,0,0,0,0,0,0,0,23,0,19,19,0,0,0,0,0,0,19,0,19,0,19,23,19,19,0,0,0,0,0,0,19,23,19,0,19,23,22,19,19,19,0,0,19,0,0,0,0,0,0,0,23,0,19,19,0,0,0,0,0,23,19,0,0,0,0,0,19,19,0,0,0,0,0,0,0,0,19,0,0,0,36,19,19,19,19,19,19,19,19,19,19,19,19,19,19,19,19,19,19,19,19,19,19,19,19,19,19,19,19,19,19,19,19,19,19,19,19,19,19,19,19,19,19,19,36,19,19,19,19,19,19,19,19,19,19,19,19,19,19,19,19,19,19,19,19,19,19,19,19,19,19,19,19,19,19,19,19,19,19,19,19,19,19,19,19,19,19,19,36,19,19,19,0,0,0,0,0,0,0,0,0,0,0,0,19,19,0,0,23,19,0,0,0,0,0,0,0,0,19,19,0,0,0,0,0,0,0,0,0,0,0,0,36,19,19,19,0,0,0,0,0,0,0,0,0,0,0,0,19,19,0,0,19,19,0,0,0,0,0,0,0,0,19,19,0,19,19,19,19,19,19,19,0,0,0,19,36,19,19,19,0,0,0,0,0,0,0,0,0,0,0,0,19,19,0,23,23,0,0,0,0,0,0,0,0,0,19,19,0,19,23,0,23,0,23,19,0,19,0,23,36,19,19,19,0,19,0,19,0,19,23,0,23,0,0,0,19,19,0,23,0,0,0,0,0,0,0,0,0,0,19,19,23,19,0,19,0,19,0,0,0,0,0,23,19,19,19,19,0,0,0,0,0,0,0,0,0,0,0,23,22,22,0,19,0,0,0,19,0,0,0,0,0,0,22,22,23,0,23,19,23,19,23,19,0,0,0,23,19,19,19,19,23,0,0,0,0,0,23,0,23,0,0,0,22,22,23,23,0,0,0,19,0,0,19,0,0,0,22,22,23,19,23,0,23,19,23,0,0,19,0,0,19,19,19,19,23,19,0,19,0,19,0,0,0,0,0,23,19,19,23,0,0,0,0,0,0,0,19,0,0,19,19,19,23,19,0,0,0,19,19,0,0,0,0,0,19,19,19,19,0,0,0,0,0,0,0,1,0,0,0,0,19,19,0,0,0,0,0,0,0,0,0,0,0,19,19,19,23,0,0,0,0,0,19,19,0,0,0,0,19,19,19,19,19,19,19,19,19,19,19,19,19,19,19,19,19,19,19,19,19,19,19,19,19,19,19,19,19,19,19,19,19,19,19,19,19,19,19,19,19,19,19,19,19,19,19,19,19,19,19,19,19,19,19,19,19,19,19,19,19,19,19,19,19,19,19,19,19,19,19,19,19,19,19,19,19,19,19,19,19,19,19,19,19,19,19,19,19,19
​
Last edited: